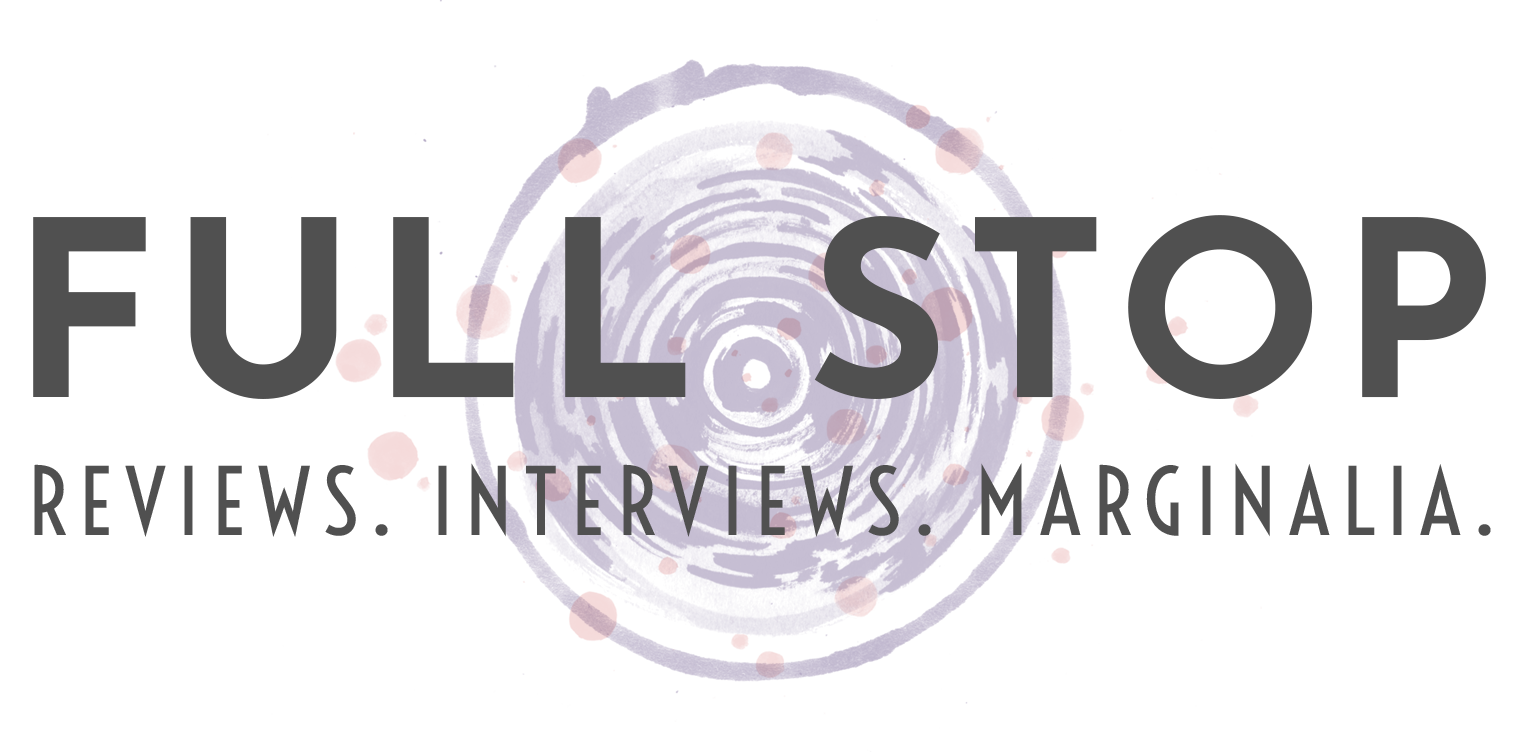 Welcome to February! Today we're featuring the latest issue of one of our favorite newsletters: "Trove" from Cristina Rodriguez and Emma Ramadan, which surfaces backlist treasures from yesteryear. Enjoy!
---
February 2022's Backlist Book Recommendations
Just over a year ago, Trove was born. One of our more ambitious literary collaborations, we set out to rebel against the buzzy lists of bestsellers and new releases and delve deeper into the vast trove of gorgeous and enduring books from years past. This newsletter remains committed to just that. One thing has changed, though: we've decided that time is a construct and refuse to adhere to any kind of regular schedule, as you may have noticed. Thanks for embracing that along with us.
We might still be living in a hellscape in 2022, but here's to brightening things up with another year of sporadic recommendations, collages, and above all, devastatingly good books.
Emma & Cristina
A Devil Comes to Town by Paolo Maurensig, translated by Anne Milano Appel (2019) | fiction, World Editions
In Maurensig's A Devil Comes to Town, a small idyllic village of aspiring writers spend their free time working on poems, essays, memoirs, and novels. Despite regularly being rejected, they remain hopeful that one day they will be published by a major house. When a mysterious big-time publisher comes to town offering a prize for the best manuscript, the once docile group of hopeful writers gives in to sinister thoughts of greed and envy at the chance of fame. Only the new parish priest, Father Cornelius, seems to notice the spiraling of the townspeople and the impending threat of the publisher, believing him to be the devil incarnate. His reasoning:
"What is the key that is capable of forcing the mind of an aspiring writer who has tried everything without result?"
Between burned manuscripts, overly ambitious writers, and the questionable ethics of publishing, Maurensig's fable is timeless. Part satire, part gothic thriller, it's an entertaining literary parable on narcissism, vanity, and the dangers of being a writer. For those that like Faustian narratives, sadistic priests, and scandalous literary confessions. —CR
Their Eyes Were Watching God by Zora Neale Hurston (1937) | fiction, Amistad Press
Their Eyes Were Watching God is a book about self-revelation, about love, and about whether the two are inextricably entwined, or inevitably incompatible. It's also about stories told on porches, about awakenings under pear trees, about power and submission. It's about the Black experience and all-Black towns in the Southern United States in the 1930s. It's about how love grows and changes and dies, and how we transform when dreams and delusions disintegrate. All of it told through the lens of Janie Crawford, who breaks through the restrictions thrust upon her at every turn, first at the hands of her grandmother, and then at the hands of her three husbands, who all seek to dim her shine to different extents and in different ways. Janie is a woman who takes life into her own hands, relentlessly pursuing the far horizon and refusing to let her dreams be "mocked to death by Time." Through everything thrown at her, from soul-numbing relationships to deadly hurricanes, Janie proves herself to be a woman who will stop at nothing to know her truest self and live her most luminous life. For those who like books that make you want to underline every sentence, and stories about women finding their way to themselves. —ER
Anatomy of a Museum by A. Kendra Greene (2015)| nonfiction, Anomalous Press
Over 265 museums and public collections call Iceland home. From the Whales of Iceland to the Museum of Icelandic Sorcery and Witchcraft to the archive of new wave music housed in the Icelandic Punk Museum, there's something to pique anyone's interest. And while you could spend hours at the National Museum of Iceland diving into the history of Vikings, The Icelandic Phallological Museum deserves the award for most peculiar and intriguing exhibit. While it's never been proven, they claim to be the only institution in the world with a collection of phallic specimens from every mammal species found in the country (sometimes even multiple depending on the phallic quality). As its subtitle suggests, this chapbook-sized essay delivers on answering any questions you might have about the museum, including the occasional anatomy lesson. Documented in its final months under the direction of the original founder and collector, Greene gives a probing look into the museum's history and the curiosity that keeps it alive. It's hard not to fall in love with the prose, which is a seductive mix of creative nonfiction, oral history, and humor. You might finish this chapbook in an hour or two but "it is the strangeness, the unique curiosity of a thing, that makes it worth sharing and repeating and passing along." For those that like polymathic minds, taxidermy, ecology, and obsessive hobbies. —CR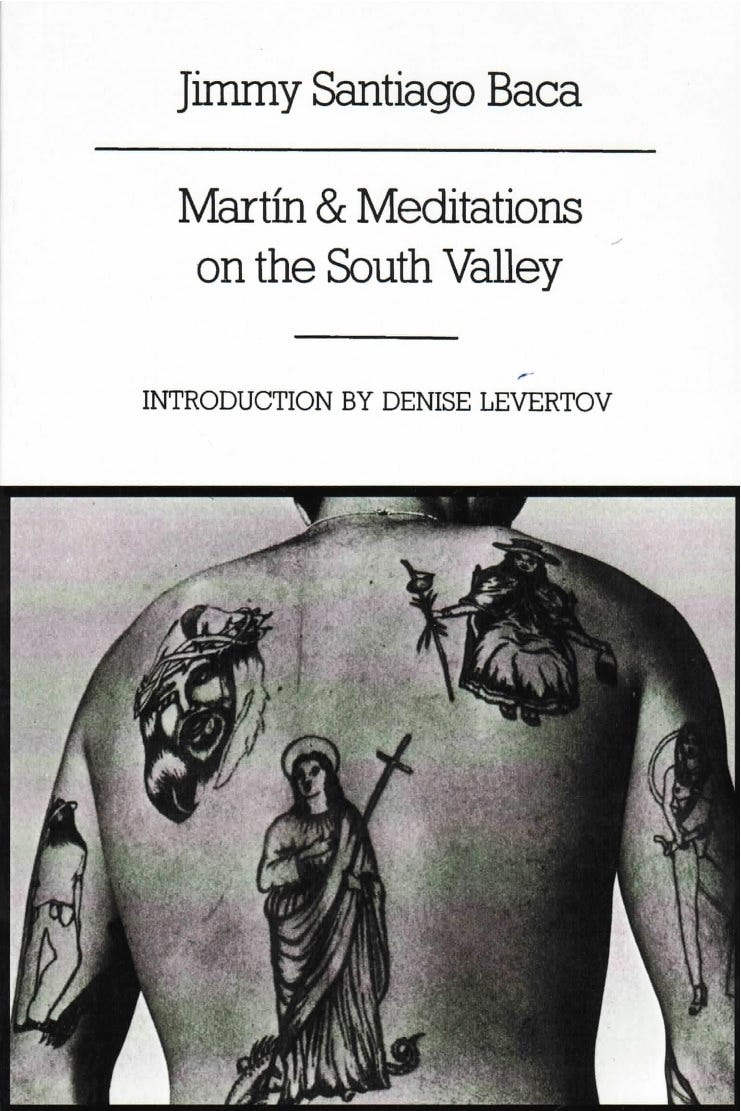 Martín & Meditations on the South Valley by Jimmy Santiago Baca (1987) | poetry, New Directions
Martín & Meditations on the South Valley is a two-part epic poem about the semi-autobiographical figure Martín, who is abandoned as a child and sets out on a circuitous road to discover out who he is and who he wants to be. Ultimately Martín will have to return to his hometown in New Mexico, face the evils that keep his community trapped in cycles of poverty, and find his way through it by anchoring himself in nature, starting a family, building a home, watching it all burn, and continuing on anyway. He will have to go back to carve a path forward, he will meditate on everything he is not to grab hold of his identity, he will face the fact that there can be no progress in escape. In stunning language that doesn't shy away from pain but always moves towards hope, Martín's message is that even when it seems as though all is lost, we can always rebuild. In Baca's words:
"It's the process of making-do,
of the life I've lived between
breakdowns and break-ups, that has made life
worth living.

I could not bear a life
with everything perfect."
For those who like novels in verse, vivid descriptions of nature, and stories of renewal. —ER
---
Trove Treasures
Ars Botanica by Tim Taranto (2017) | hybrid memoir, Curbside Splendor
"When she communicated her desire to terminate the pregnancy, I was with her, it was what I wanted, too. When she communicated her desire to terminate the relationship, I pulled my hat over my eyes and sank into the sofa."
This month's lost treasure—a book that is out of print or otherwise difficult to find—is Tim Taranto's epistolary memoir Ars Botanica. In a series of letters to an unborn child, Taranto recounts his love story with the child's unnamed mother, documenting the aftermath of an abortion and the devastating dissolution of their relationship. Through painful snapshots of the past, the letters read as an explanation for their failed love, an apology of sorts to a future that will never be. Interspersed with poems, fragmented conversations, song lyrics, and illustrated botanical definitions, Ars Botanica is an innovative rumination on grief, love, and nature, a testament to how "loss does not end our relationships with the departed, it transforms them." For those that like nature motifs, books you can cry to, and summer in the midwest. —CR
Please consider buying these books from your favorite local indie, or from our bookstore partner The Wild Detectives.