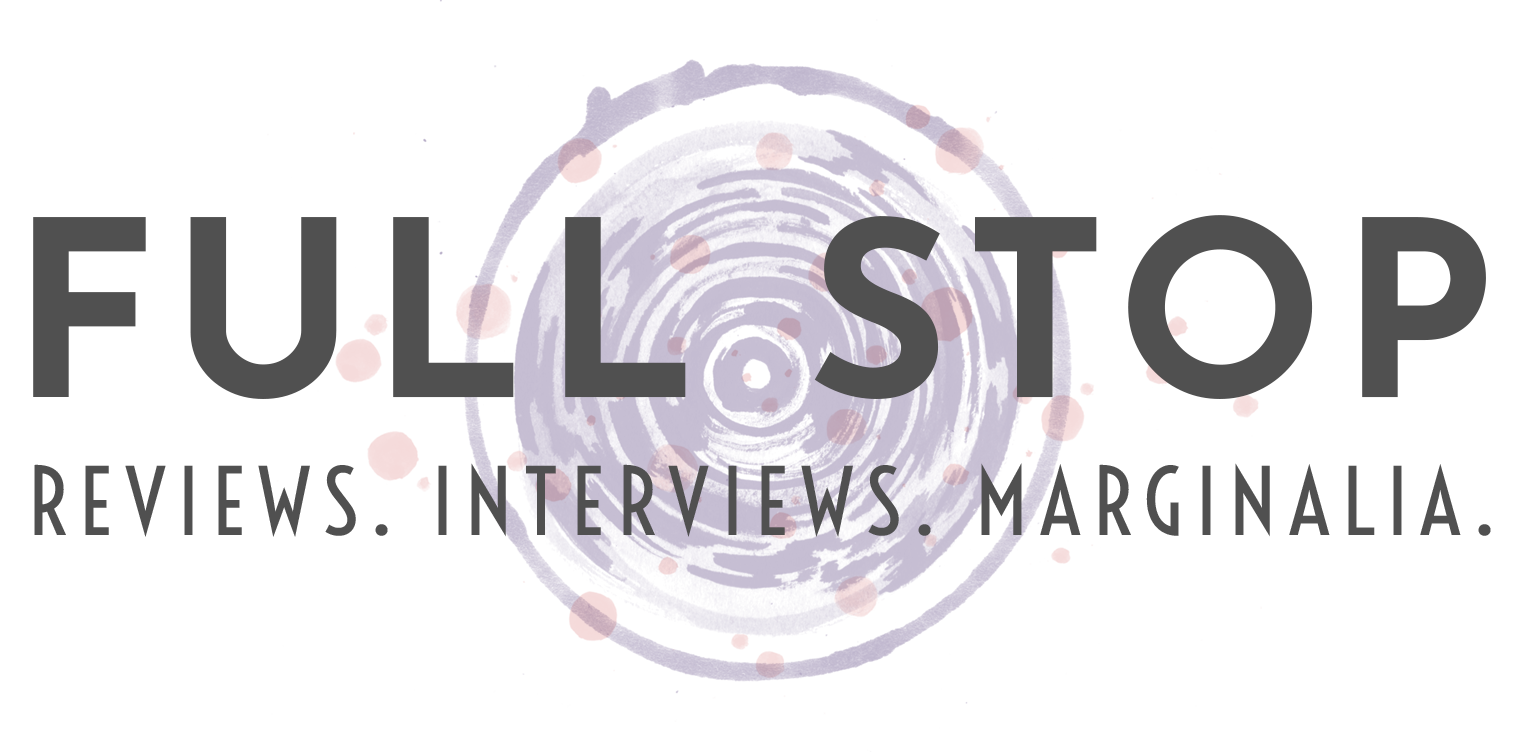 This essay first appeared in the Full Stop Quarterly, Issue #6. To help us continue to pay our writers, please consider subscribing. 
"Everything is extra-weird," she said to me as we got out of her beat-up Kia sedan and began our time on the Dunn Trail, a light-moderate loop hike in Redwood Regional Park, one of the jewels nestled in the hills above the city of Oakland, California.
"Why?" I asked. There were some moments when we didn't speak further, glopping our feet through the trail's mud and watching my pitbull run happily ahead of us. Lara Durback, my partner on that overcast day, is a poet and book artist who has been in the Town for well north of a decade, and has been an active participant in any number of Bay Area arts communities during that time. If asked, many within the area's poetry scene would say they couldn't imagine Oakland without Lara's presence, and they'd be absolutely right.
"Everything seems disparate," she finally exclaimed, looking at me seriously, "like there's no connecting any one event or struggle or poet or scene to any other." I nodded.
Of course, Lara elaborated further, and we gossiped and wondered about political alliances and social capital and all the things that are endemic to any poetry scene in a metropolitan area, but I kept coming back to the word 'disparate' long after our time together had ended. It seemed a most apt descriptor of what Oakland has become: a place of incongruities. Flashy lofts and eating places full of technology's nouveau riche sit abreast entire city blocks of people living in tents or tiny shacks on wheels. Working-class culture is aestheticized and commodified while the number of actual working-class people living in the Town dwindles by the month. Arts and artists are 'officially' valued, but only insofar as they toe a line of legality and fealty to capitalist hegemony's ideas of usefulness and exchange. The poet and critic Anne Boyer once wrote, "Rumor has it Oakland is a place, but I can say with some certainty it is also a time." If this is so, then Oakland is in a rough time, an interstitial temporality where long-term and native residents are being displaced by soaring rents, underground creative communities are being scattered by tragic disasters and oft-related housing clamp-downs, and the battle for what words like 'neighborhood' and 'culture' truly signify is at a fever pitch. But what happens after Oakland emerges from this time cleft, if it does? It is difficult to write sincerely in regard to poetry's ability to effect change, and I harbor few hopes that its poets can have much meaningful impact on whether Oakland is forever altered into a neoliberal wet dream monolith or reverts back to a real place, a lively and kinetic city with its cooperations, violences, and charms. What is heartening, though, is that many of the area's poets are fighting in the streets and on the page and eliding what separation exists between the two, and they are wholly against the beige visions of Oakland's future.
•
A perfect example of this culture that knows and supports Lisa Robertson's idea that "the poem is the opposite of capital" could be found on a recent evening at the cusp of April. The night's first reading featured three radical poets from Vancouver, BC, sharing their work in Alley Cat Books, one of the last remaining friendly and publicly-accessible book shops in San Francisco. Arriving from a city whose artists and writers are similarly engaged in struggles against neoliberal matrices, the readers' ease in engaging the political sensibilities of the audience members was palpable, especially given that a majority of the audience members were Oakland residents. Perhaps a fragment from reader Anahita Jamali-Rad sums up this first section of the night most succinctly: "You want to live in a classless society.// You want to send a postcard/ that reads:// another world is possible." It is rare to find such a large and varied group of people who sincerely desire to send the same postcard.
It is also rare, in many other metropolitan areas, to find poetry events that are coordinated so that people can go to one event at 7 pm, and then take a forty-five-minute jaunt on public transit to arrive at another reading without missing any readers. Yet in the Bay Area, and Oakland particularly, this is a common method of ensuring that certain voices are not privileged over others, that the spectrum of poetries that inhabit the Town can be heard.
And so the readers and many audience members from the first reading made their way across or under the bay to Woolsey Heights, a house and near-legendary poetry venue on the Oakland-Berkeley border. Here, San Francisco poet and movement worker Tongo Eisen-Martin had curated an event featuring himself alongside two other poets whose work is more commonly associated with slam and performance poetry: Almost fresh out of high school, genderqueer poet Ash Tré Phillips performed movingly about discrimination and the desire to drop out of a sick society, and Indio poet Josiah Luis Alderete brought forth a torrent of Spanish and English that cut through traditional narratives of immigration and what it means to be a brown person in the United States. For his part, Eisen-Martin shared some newer and some older work, but most importantly, all the poetry of the event embodied Eisen-Martin's idea that the poem is "the revolution that is waiting for us." It is this kernel that connected the evening's two readings; namely, that poetry has a revolutionary potential, and that obvious formal differences between poetries should not separate any practitioner who seeks radical change in the order of things. A white Marxist PhD doing a post-doc and writing conceptual poems echoing tenets of historical materialism should be rubbing shoulders with a brown, genderqueer teenage barista performing call-and-response slam poems damning heteropatriarchy, after all, since so often, their eventual goals and concerns are similar, as can be absorbed through their arrangements of language.
That the poetry community and wider social movements are inextricable from each other in Oakland shouldn't be that surprising to the outside observer, as the Town has been an epicenter of social unrest and radical politics for decades, and the recent past is no exception— the events during and after the height of Occupy Oakland, affectionately known as the Oakland Commune to many partisans, shaped the poetry community irrevocably, and for the better. Now, when local publishing concern Commune Editions hosts an event for Afro-Pessimist philosopher Frank B. Wilderson, III, along with poets Wendy Trevino and the aforementioned Tongo Eisen-Martin, the crowd is an almost equal mix of poets, proletarians, and students, all of whom would probably self-describe as some shade of anarchist or Marxist. Of course, it would be ridiculous to say that such radical confluences did not exist before Occupy—they certainly did, what with events like the Labor Day proceedings of years prior and the riots after the murder of Oscar Grant, as well as any number of other street struggles and events—but the period in late 2011 and early 2012 was a time when alliances were quickly formed between the poetry community and others fighting against the state apparatus and its encouragement of displacement and rapid gentrification in Oakland.
Many alternative institutions emerged from this time of uprising in Oakland, including the still-extant Bay Area Public School and the Omni Oakland Commons, and while neither are major sites for poetry (or meaningful political struggle) any longer, the period between 2013 and 2015 saw a flurry of activity take place, including language classes, poetry readings, radical hack-a-thons and computer courses, bike mechanic workshops, dance performances, enormous political conferences, impromptu raves, the creation of a worker-owned bookshop, and an astounding number of other situations, with the goals of mutual aid, learning, and community in mind.
Another radical institution that arose during the post-Occupy period is the Words of Resistance series, started by queer punk poets Andrea Abi-Karam and Andrea Marina. A roving night that includes featured readers as well as an open mic segment, it is marked by the curators' insistence on giving unheard and marginalized poets a place to perform. Sometimes, it will be a reader's first time sharing their work with anyone, and there is also an emphasis placed on works in progress and the messiness of first drafts. It is often an intimate affair, a room full of friends and friends of friends, more Black and brown than white and more queer than straight, and very much in line with a revolutionary politic that tells off the more genteel poets of Oakland (and elsewhere). At a recent iteration of the event, Mexican-Vietnamese poet Mai Doan read, and was followed by a number of audience members performing memorized poems and reading from notebooks and phones. Generally, the work was deeply personal and confessional, but also imbued with a rage against the structures and borders that impress themselves on the quotidian. In the poem "becoming-time," Abi-Karam writes of "a collective consciousness/ of being seen as traitors to the nation," and it is this collective consciousness that often seems to drive the writing of so many in Oakland.
•
At the release party for her book ANEMAL UTER MECK in Rockridge's Diesel: A Bookstore, Mg Roberts pleads, "tell me that a closed fist can also mean:// i love you." There is a spirit of resistance enmeshed with a spirit of radical love that froths through Roberts's work, which darts quickly between scenes of environmental devastation and the intimacies of the human body, where "Cells butt against skin—." Among others, Roberts is continuing a Bay Area poetic tradition that came to its most palpable fruition with the New Narrative movement, wherein wider and wilder political concerns are expressed alongside or through the pores of the body. Among others, what Bob Gluck and Dodie Bellamy wrote in the eighties and nineties forged a union between the sloppiness of emotion and viscerality with the "urgent social meanings" that must needs be expressed by any subject alive and breathing in this world. The skin of the city is the skin of the body and fighting for one means fighting for the other, too.
Examples abound. There is emji spero's almost any shit will do, a booklength poem that utilizes language from the world of mycology to think through radical movements and the visceral trauma of being slammed to the ground by a police officer. There is the work of Cassandra Troyan, whose poetry addresses notions of violence, intimacy, and "how to build without producing" and reproducing the anxiety and separation that neoliberal orders have wrought upon our relations. Teacher and poet Zack Haber physically takes himself to what he calls "horrible places"—casinos, megachurches, strip malls, police departments, and other power centers of capitalism—and writes from inside these locations, performing a psychopoetic critique of what these spaces do to his body and consciousness. Kate Robinson and Ivy Johnson, both poets in their own right, combine to form The Third Thing, a feminist performance poetics concern that employs nudity, bodily excretions, and troublingly large sexual objects to explore (and damn) the systems of misogyny that thread through most societal interactions. Finally, there's David Buuck, longtime Oakland resident and journal editor who writes this reportage of the aftermath of a street struggle: "THOSE OF US WHO DIDN'T GET DON'T STOP/ SNATCHED MADE IT TO RADIO FOR WHISKEYS/ AND BEERS AND OMGS DON'T STOP BILL WAS/ WALKING AROUND POPPING DON'T STOP/ ACUPUNCTURE STUDS INTO OUR EARS TO TAME THE/ DON'T STOP ADRENALINE." These are but a few of the many methods being employed by Oakland poets to bring the body to poetry, and to build both into forces for radical social transformation. There's more than one way to break a window.
•
The day after the Ghost Ship Warehouse fire, I ran into poet and musician Alex Cruse at Eli's Mile High Club, a punk dive bar that was serving as the Oakland community's unofficial meeting space to collectively mourn and share information about our loved ones. I'd already been there for a few hours, and was getting to a bleak point where drunkenness and despair meet. Alex and I wept for a bit, and as we were commiserating, Lara Durback came through the door of the bar. It wasn't long before the three of us were trying to decide whether to take ourselves downtown, to a poetry reading at E. M. Wolfman, a small bookshop run by poet and visual artist Justin Carder. Lara told us that the reading was being opened up to anyone who wanted to talk about what had happened, and given that we all needed to leave the communal mourning site but didn't want to be alone, it seemed like a good idea to grab our belongings and get to Wolfman.
The shop sits on a strange block in the heart of downtown Oakland, and as we approached, we could see friends talking solemnly through the large storefront window. Once inside, much of the conversation revolved around who had been lost and who had escaped and who was left behind to grieve. I don't remember much about the substance of any of the conversations. I do remember not being able to see very well, my glasses fogging up from tears every few minutes. Mostly, though, I remember thinking about Joey Casio.
It is not facile to explain the profundity of the intersections that exist between underground arts communities and radical social movements, and I won't attempt to do so here. What I can explain is that Joey Casio was a freaky angel, a being who believed in the erasure of the artist's ego, the creation of autonomous zones of joy free from the yoke of authority, and most of all, in radical love. He was a presence in the Oakland Commune, in squat raves that lasted all night, at experimental film screenings, and even at poetry readings. When we were neighbors, I knew Joey was home because deep, hypnotic bass pulses would bleed through the walls of his building out onto the street, inadvertently competing with the dope boys' sound systems down the block. All that I remember about the last time I saw him was that we spent much of it laughing, as was his wont.
He was still missing, and presumed to be one of those who perished, by the time the reading was supposed to begin. As I looked around the room, I kept seeing friends whose lives had crossed paths with his, whose concerns were virtually the same as his, but who probably had never hung out with him or had a conversation with him or been subject to one of his elaborate word puns.
As if reflecting my own state, the reading went forward in a subdued haze. David Buuck and Cassandra Troyan read quickly and sadly, knowing the immensity of what had occurred. Danielle LaFrance, in town from Vancouver, gave her condolences and read brilliantly from her book. Then came the time for the floor to open to anyone who wanted to talk, and I decided that I should probably say something.
I started talking about Joey, how we met through friends of friends in the tight-knit Oakland music scene, an underground culture that formed around a punk, DIY aesthetic, but had very little to do with much of the punk or hardcore being produced at the time. Though we'd already made each other's acquaintance, and he might have played a loud, synthesizer-screaming show in the basement of my house, I consider the first time I hung out with Joey to be a morning at the now-shuttered Revolution Cafe spot in West Oakland. My partner and I came in on a scene of him and some other "autonomous mutants" lounging about a table in the patio area, lazily telling jokes and talking about upcoming gatherings in the woods of Cascadia. We joined the crew, sipping huge cracked mugs of thick hot joe, when all of a sudden, Joey hands me a drawing of Odie from Garfield holding a gun with a dead Nermal bleeding out beside him. Above this grisly scene are the words, "Why Be Nermal?" The two of us looked at each other and began laughing the laughter of absurd delirium. Privately, Joey Casio became 'Why Be Nermal Joey' to me and my partner in the years that followed.
But more than jokes (of which there were many), my interactions with Joey often involved conversations that were as far-ranging and obscure as they were drenched in sincerity and excitement. We'd be talking about mobile sound system set-ups we'd seen over the years, then get started on Jamaican dub, then segue into Acid House and the many projects of Jamal Moss. An off-hand comment about Sun Ra would turn into a wild exploration of Black cosmologies, poetries, and resistances. I'd run into him on the way to the corner store and we'd start riffing on Kurzweil. He was as likely to be seen wearing neon-hued capes and sweating it out at an after-hours party as he was playing a set for a crowd of anarchist revelers and drunk teenagers at the Occupy Oakland encampment in the city's Oscar Grant Plaza. He was a teacher of children and of friends, a non-judgmental presence ready to imagine outer space with a toddler as well as show one of his peers the ins and outs of a particular synth.
For much of the time when we were closest, we were both living in circumstances borne out of resistance to normalizing structures that threatened and continue to threaten Oakland today. Joey lived in a huge collective living situation with other weirdo artists, where shows, film screenings, and impromptu parties were the disorder of the day. Meanwhile, my partner and I lived in a fourteen-foot U-Haul truck that we converted into an RV of sorts and parked it on the same block as Joey's spot. Along with a few other vehicularly-housed folks and friendly neighbors, the block became the sort of urban microcosm where the street and the stoop and the dance party and the tailgate became one in the same, where people were always gathering and communing despite regular harassment from cops and a slow creep of NIMBY yuppies into the area. I can't help but think that Joey's openness and compassion had something to do with this confluence of diverse and interesting residents.
I ended my rambling, shambling talk about Joey with a story about the time I slammed my finger in a car door and was bleeding everywhere, and Joey took my hand, washed out the wound, and bandaged my digit with paper towels and duct tape. Joey cared about other people. He practiced a sort of deep empathy and understanding of people, coming to them where they were at. A poet of his own sort, the most famous lyric from any of his innumerable acid techno/wizard punk hybrid projects is the couplet, "Share the cup/ Spare the sword." It captures perfectly not only his ethos, but the ethos of a community—let's create joy together, because the murderous logic of this world is ever-ready to seduce or pounce upon us.
What strikes me now is that as I sat down at Wolfman that rueful evening, the deep sorrow in the room felt like an embrace. This space full of poets, full of people whom I'd marched with, read with, laughed with, argued with, drunkenly caroused with—every single person was aching, and was trying to hold every other person up despite their own ache. I rue the events that led to that moment, but will always think of it when I think of what solidarity can look like, what poetry's radical potential can be, and what Oakland is really about: people who will stop at nothing to care for each other while resisting the forces and circumstances of unwavering brutality.
Ted Rees has lived in the Bay Area and rural northern California towns for almost ten years. His first book of poetry, In Brazen Fontanelle Aflame, will be released by Timeless, Infinite Light later this year.