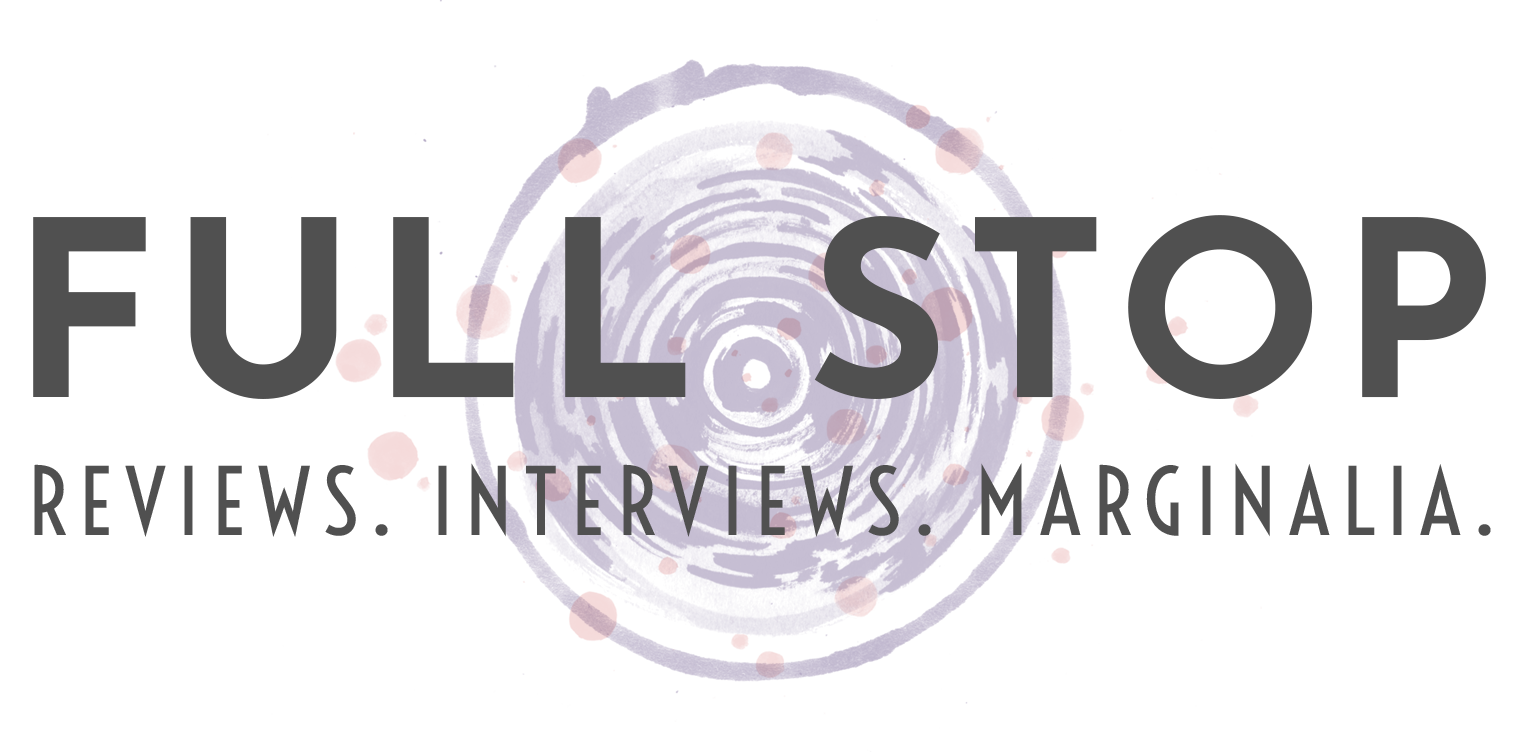 I received a copy of John Dermot Woods' The Baltimore Atrocities from Coffee House Press late last year, and, for some reason (spiritual or otherwise) it always seemed something came up right when I was about to begin the book, and it would linger longer, pushed back on my to-do list. When I did get around to it, I could not let it go. It felt like binge watching a good television show, John's prose, arranged in short chapters and scenes, clean and crisp, accessing elements of sorrow and strangeness and subtle humor in unbelievable ways. The original comics peppered throughout the text also offer the reader a vastly different experience of reading, sometimes bolstering the haunt of the story, at other times introducing humor where humor did not feel possible.
John talks about the periphery here, about disrupting ideas, and his whole novel has that same peripheral effect — that it comes at you from the side, from some blurred angle of vision, and never head-on. Some things don't line up, others are funny when they shouldn't be, and still others are wrought and cathartic in their unexpected sadness. All of them push at truth. All of them blend to create a portrait of a city, a collective unknown, the mean mystique of living. And all of this makes The Baltimore Atrocities both delightful and moving to read. Talking with John about his process, his history, and his thoughts on writing and the goings-on of literature offered that same kind of delight, and I'm excited to present that conversation here. 
Devin Kelley: So, tell me about this book. How did it conceive itself in your mind? Many of your sections/chapters were featured and published in literary journals in prior years. Did you know then that these smaller stories were going to be a part of a larger whole?
John Dermot Woods: It began as a daily discipline during my train ride each day a few years back. I'd write each atrocity on the Long Island Railroad in the middle of the day, travelling between the Flatbush Terminal and Country Life Press. On the way back, I'd figure out a drawing. As this catalog of atrocities gathered, a story, a mystery began to emerge. Eventually, I realized there was a novel to write in there. My editor at Coffee House, Anitra Budd, was invaluable at that stage.
On a side note, some of these journals — Hobart, Big Lucks, DIAGRAM, and others — are at the forefront of a recent online movement in the literary journal world, as is your journal, Action, Yes. What do you think of this recent movement, and how do you feel about the literary journal arena as a whole — where it's going, the sheer amount of options, etc.?
That's a good question, but one I feel like I'd be able to answer better a few years ago. When I started Action, Yes with Joyelle McSweeney and Johannes Goransson almost ten years ago, there weren't many digital native journals available. Now the line between online and print journal has all but disappeared. I think that's a great thing. Many of the prejudices are gone. The nimbleness of journals and their sheer abundance is exciting. There's a lot of good work actually getting read. The tyranny and centrality of The New Yorker aesthetic is not what it once was.
I grew up in DC, and spent many days tooling around Baltimore, going to Camden Yards and such. What pushed you toward Baltimore as the setting for this novel? It seems like the perfect place. And how do you feel about the literary potential of Baltimore? It obviously is known for The Wire, and the now-famous NPR podcast Serial. Do you think each city has a specific story that is ideal for the setting it offers, something worth mining and delving into?
I used Baltimore because it's a place where I once lived and still haunts me. It's a city that you can't help but love for all of the wrong reasons. (Except for Camden. That's the best stadium in baseball, and I don't even like watching the American League game.) I think it's a city that has endured and suffered through radical changes several times in the past few decades, and these struggles create a lot of anomalies and gaps. Baltimore has produced a lot of art, but it seems to be producing more and more each year.
I don't know that each city has a specific story, but I do think the countless stories that each city produces are suited particularly to that city. When I began to write the atrocities, I don't think I knew that they were in Baltimore, but, not long into the project, it was clear to me that that was the city I was writing about.
Who are your influences in both of the mediums in which you work? Obviously, the drawings throughout The Baltimore Atrocities have an Edward Gorey vibe, and many of the stories have the sudden sharpness and insight of Stephen Dixon, J Robert Lennon, and others. Do you feel yourself working in a certain vein in both mediums?
This is a tough one to even know where to begin. The shadows of Gorey and Dixon loom large over my work. Dixon was my teacher, and introduced me to the work of Thomas Bernhard, to whom The Baltimore Atrocities is dedicated. This book owes a lot to Ishiguro's postmodern noir and Sebald who gave novelists license to write with pictures that serve as part of the text, not as illustrations that simply reinforce what's already been written. I wish I was working in a more discernible vein. I think the way I use image in my work would've been the norm 150 years ago. But, now it's become hard for people to categorize. It's not comics and not exactly illustrated work. I think there are lots of children's books, if not most, that use same image/text idiom that I do. It's rarer in adult fiction. The one author who comes to mind is Lynda Barry.
What pushed you to combine both illustrations and prose, and to have both as your own original work? What do you think is the benefit, or joy, of a book that combines both mediums and succeeds in doing so, as your novel does?
It wasn't really a conscious choice. I write and I draw and it seemed natural to use both forms to tell this story. I never thought of having anyone else do the work. Novels as collaborations are tough to pull off. This book was always something I was going to do on my own. 
I think including both words and pictures, and different modes of storytelling, gives the readers more to immerse themselves in. There are more ways to become overtaken by the story, and more ways that that story might haunt you after you've read it.
Reviews of The Baltimore Atrocities have called it anything from comic to tragic. How do you see your work, in this sense? The stories that pepper it throughout are heavy and weighted with horrible, sometimes unspeakable things, yet you navigate them in a way that pulls out their sorrow and yet somehow renders them fresh and often strangely hilarious. Was this your idea, your conception? Was it something you intended, and, if so, can you describe the process of dealing with this kind of material and still trying to pull some delight through the sadness and sorrow?
I'm not comfortable with writing comedy because I don't think I'm good at it. Whenever my work has taken a comic turn, I didn't see it coming. Humor is our way of coping with everything from the inconvenient to the unspeakable. But, I think the truest humor is the humor that doesn't try to deflect the truth and the pain, but tries to stare it in the eye without blinking. I knew I was walking the line of cracking jokes when I was writing The Baltimore Atrocities and I wanted to my prose to beg for punch lines. But, I hope, I never delivered them. I didn't want to provide my reader with the solace of a comfortable laugh. I think the best laughs are ones we feel guilty about indulging in.
One of the through-lines I loved throughout the novel was this sense of innocent childish wonderment, this notion that we all expressed as children, of trying to piece together the what-we-do-not-know and the what-we-want-to-know, of trying to make stories out of the small, barely connected elements of our daily lives, saying what if or don't you think that. In the end of The Baltimore Atrocities, I felt child-like again, constructing small stories out of the pieces you gave me as a reader. Can you talk about these kinds of ideas, about the way we think of stories as children, and if you find any sort of truth or meaning in that innocent approach to storytelling?
Despite being the working father of two children, I'm very immature, in many ways. And I mean that earnestly, not in some twee way. It has some advantages. I still thrill at the wonder of simple stories that transcend our immediate world just slightly, whether it's Dahl or Marquez. In the same way, I'm easy to impress. At times, admittedly, my standards can be low. Finding connections between seemingly unrelated things gets me excited. When I wrote this book, I just laid these anecdotes beside each other and stepped back to see what might happen. This child-like inclination you describe doesn't feel distant for me. It's the way I still construct stories.
In one scene, you mention "the possibility of truths on the peripheries." For the scene in question, the periphery applies to a courtroom, but I wonder if you could open up more about how you feel this phrase can apply to your writing and your approach as a writer. Do you actively seek these kinds of peripheral truths, and find beauty in them? Do you feel this should be one of the aims of the author, or the artist?
Yes. We should distrust first instincts. Assumed truths are dangerous. I look to the side to learn. That's where things are new. Calvino calls this the virtue of lightness (and cites Perseus approaching Medusa with a mirror as an example of its practice). And when we create, however derivative or copied our work is, we are hoping to create something new. The only way to engage your audience or to expect them to care is to disrupt some idea. If an author cares about his reader at all, he needs to look to the periphery.
How has it been working with a smaller, independent press like Coffee House? And how do you feel about the publishing market as it stands now and as it is moving, with the rise in many smaller independent presses?
Coffee House Press is an institution I believe in. Coffee House is a nonprofit that publishes and promotes books that it believes people should read. They support not just their authors but their readers. My editor, Anitra Budd, took a risk acquiring my book when only half of it was written. But we worked together closely as I wrote the other half. And Coffee House provides resources, mostly in the form of time and sweat, to give their books a chance to find an audience. I think many of the small presses that have become central to the American literary landscape understand that books and authors need the most attention after the book has been published, and that's something that larger houses can only do for a handful of the books in their necessarily large catalogs.
What's next for you? Where do you see yourself heading? As someone who has collaborated with Lincoln Michel and J.A. Tyler, do you see more collaboration in your future, more general fun?
I have too many projects going right now, and I fear that none of them will get finished, or at least finished properly. I'm in the early stages of a novel about the adult children of a New York family returning home during a global weather disaster. And Lincoln and I continue to work on our Herzog, Park Ranger graphic novel, which we completed a large chunk of during a residence this spring. I've also got an animation project, and several comics collaborations in the works. And maybe even a film project associated with the Atrocities. We'll see. 

Devin Kelly is an MFA student at Sarah Lawrence College, where he serves as the nonfiction editor of LUMINA. His poetry, fiction, and essays have appeared or are forthcoming in Armchair/Shotgun, Post Road, RATTLE, The Millions, Appalachian Heritage, Midwestern Gothic, Forklift Ohio, Big Truths, Passages North, and more, and he has also been nominated for a Pushcart Prize. He co-hosts the Dead Rabbits Reading Series in Upper Manhattan and teaches Creative Writing and English classes to 7th graders and high schoolers in Queens, as well as the occasional children's poetry workshop at the New York Public Library in Harlem, where he currently lives. You can find him on Twitter @themoneyiowe and online at devingkelly.wordpress.com.